Best Sites To Watch Cartoons Free: Best Cartoon Sites
Would you like to know how to watch cartoons on the internet for free? Then you are specifically landed where you are supposed to be!
Sometimes everyone dreams of returning to childhood or having some kind of a tour around the past. Unfortunately, some dreams can't come true. We have too many things to worry about in our everyday personal and professional lives and it is impossible to run away from our responsibilities.
However, there is a way out. If watching cartoons was an essential part of your childhood, you can find an escape from time to time by turning on your favorite series.
Nowadays we don't have to sit in front of a TV waiting for a specific program we would like to watch. The most practical way to watch cartoons is to look for them on the internet. The problem with this, however, is that the number of websites for watching cartoons is staggering and it is really hard to find a good one.
Some websites are free, others are not. Some demand registration, others are easily accessible. It takes a lot of time to find the source that would be suitable for you. Luckily, we have sorted out the junk. Below, you can view top cartoon/anime websites that'll allow you to watch cartoons online for free without downloading.
Through these websites, you can watch cartoons like Spongebob, Gravity Falls, Bob's burgers, Naruto, Tom and Jerry, Adventure time, and more. Look through the list and save your time!
Read More: 20+ Picasa Alternatives And Best Similar Apps Like Picasa
List Of  Best Cartoons Sites For watch cartoons online free
Charge: free
You probably know that YouTube is the king when it comes to online videos. It is the most popular platform for watching videos. Millions of people use it every day. The site has thousands of cartoons that meet your requirements.
You can explore for either a separate cartoon or the whole cartoon series. To watch any cartoon on YouTube, just enter the name of it in the search box. You will be redirected to a page with your search results and now you should click on the most relevant cartoon to watch it. On the right view of the opened cartoon, you can find similar cartoons or cartoons with a similar name.
YouTube has the greatest amount of video materials in the world. So, just enjoy it!
Charge: free
"Where the magic begins" is the motto of Disney Junior. Disney Junior for adults is a funny fantastic godsend for you! You can watch all the Disney cartoons here without paying any money.
The interface is very sweet and simple. Do you want to see cartoons with a Disney character like Mickey Mouse or maybe Donald Duck? On the homepage there are small pictures (thumbnails) of cartoon characters, so, just click on the one you like and you will see the series with that particular character. It is so easy to find a desirable movie!
What's more, there are some additional services such as games, music bars, and the ability to download cartoon apps, and more.
Charge: free
GO GO Anime is another exceptional website for watching anime without paying any money. The design of the site is gorgeous and very clear.
On the home page, you will notice anime series that have been issued recently as well as popular updates. Try watching them if you want to! Would you like to discover a cartoon which you like? Tap the "anime list": all the cartoons are listed there in alphabetic order. You can also just use the search bar.
Practically all the anime series are dubbed in English on this site.
GO GO Anime is the best site to watch anime online for free. You will surely be pleased!
Charge: free
Do you want to find a website for your beloved kid where he or she could spend time usefully? Here it is! Cartoonito is the best site for kids. It provides fun, entertaining, and light educational videos suitable even for pre-school children. You can pick any educational cartoon show by clicking on it. On your screen, you will see all the episodes of the show. Tap on any episode you like to play it.
In Cartoonito you will get a lot of extra kinds of entertainment such as games, songs, activities. Be sure, your child will like it!
Charge: free
Fox is among the most favorite channels out there. If you regularly watch TV, you know that they broadcast cartoons too. The channel has introduced such series as Family Guy, The Simpsons, Bob's Burgers, and others. If you like these, you can find them on the official website of Fox.
The latest cartoons appear immediately on the site. The interface is clear – there are no irritating pop-ads.
So, have a pleasant time enjoying your beloved cartoon! By the way, there is other stuff too, not only cartoons.
6. Anime Toon
Charge: free
Anime Toon is a good website for watching anime on the internet without paying a penny.
It has a great number of Anime series in its database. You can watch dubbed anime online here. Also, you can find anime by its genre as all the cartoons are structured in groups: Action, Adventure, Comedy, Crime, Drama, Family, Fantasy, Food, Horror, and more.
You will certainly be satisfied! Try it!
Anime Toon is also available on Android devices.
Charge: free
Do you want to watch the most famous anime series? The Anime-Planet site is for you! You'll find the best anime here. There are top lists, searches by characters, manga recommendations, and a lot more.
Anime Planet's interface is excellent. You can watch the series you are interested in right away or sign up and create lists of series you would like to watch in the future.
If you are searching for the latest anime series, they are there too! Just click on "Anime recommendations", select any series you like, and have a relaxing time.
Charge: free
Nick.com is the preferred website for thousands of cartoon fans. The interface is interesting and fun. Just go to the website and try it out. You will have so much fun!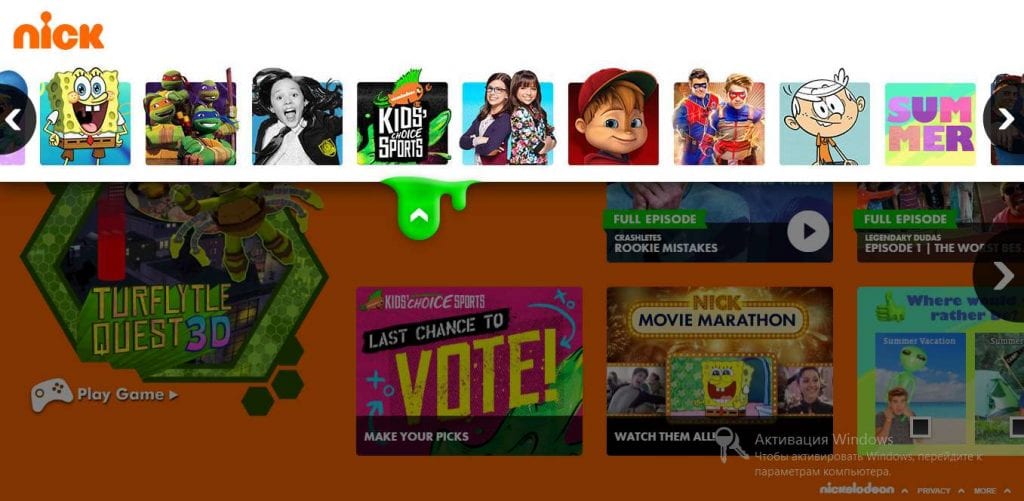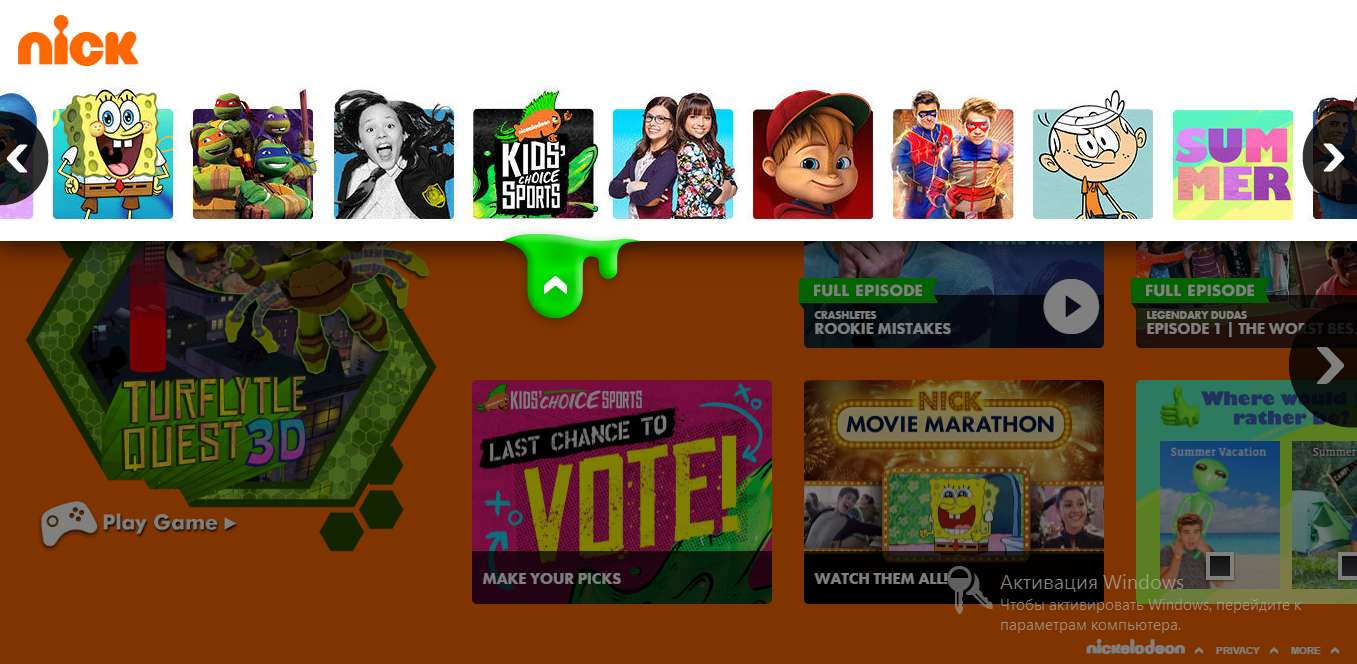 It's worth noting that this cartoon streaming site is confined to Nickelodeon cartoons, such as Spongebob, Jimmy Neutron, Blaze and Monster Machines, Avatar, etc. However, there are also extra services like radio and games.
Try Nick once and you'll never forget it!
Charge: free
Hulu Watch Cartoon is a legal site to watch cartoon series online for free. It offers you high-quality videos that can be accessed without any problem – that's why it is so popular.
But there is an issue – the site isn't accessible in all the parts of the world. You can only use it in such countries as the UK, US, etc. To get access, you have to use a VPN. You can get a PD-Proxy Premium Account. Android users can use DroidVPN for the same purpose.
Charge: free
SuperCartoons is a user-friendly site. You can watch more than a thousand classic cartoons there, online and for free.
With SuperCartoon, you can watch old animated Disney cartoons as well as Looney Tunes and many other animation shows.
The menu is clear. You can discover a cartoon by its characters (Tom and Jerry, Mickey Mouse, Road Runner, Daffy Duck, Pink Panther, Goofy, Porky Pig, Tweety, Speedy Gonzales, and more!) or you can pick a cartoon by clicking on your favorite studio (Walt Disney, Disney, Warner Bros, Hanna-Barbera, MGM, Universal Studios, Paramount Pictures, Columbia Pictures, Filmation Associates, 20th Century Fox, and many others).
You can have an interesting time watching cartoon series without having to download or register.
Charge: free
Comedy Central offers a great collection of animated movies and cartoon shows. There is no signing up or downloading. You will find popular series such as South Park, Futurama, Ugly Americans, Drawn Together, Professional Therapist, and others.
All content on Comedy Central is free.
Charge: free
Boredom kills. Doesn't it? How about substituting the most boring and irritating time of your life with joy and interesting moments? Just visit this site:
Kiss Cartoon holds a cartoon list as well as an anime list. If you click 'Anime list', you will be driven to another website which is attached to the main one:
In any of these two sites, you can search for cartoons by status (ongoing/completed) or genre (Adventure, Biography, Crime, Cars, History, Musical, Ski-Fi, etc.). Choose cartoons according to your preferences.
You can register on Kiss Cartoon/Anime. As a member, you can bookmark the cartoons you like and you will be automatically notified about new episodes. There will also be default HD, a possibility to disable autoplay and use some other additional options. All you need to do is fill in the box:
Kiss Cartoon/Anime are excellent websites to watch cartoons online for free!
Charge: free
New Grounds is a community website where you will get a great collection of cartoons and also games and music!
You can sign up to have additional options. Just fill in the form:
Also, you can create your cartoons and upload them on New Grounds:
Share your creations and favorite cartoons with friends.
New Ground's slogan is "Everything, by Everyone". Don't be bored, have fun!
Charge: free
Another best website for watching cartoons online for free is Side Reel.
You can see a list of the most tracked shows here, such as Family Guy, South Park, The Simpsons, and more. What's more, you will see Cartoons Premieres and Finales on their release dates. This way, you can be the first who knows about and sees the new series. Isn't it cool?
Register on Side Reel and enjoy features such as tracking your favorites, reviewing and rating cartoon series, finding out what the site's expert community members say about them.
You can also discover new cartoons. Side Reel provides suggestions based on the cartoon shows you've already tracked and rated – these recommendations are tailored just for you.
Bring SideReel on the go! The iOS app gives you the ability to organize your TV experience anywhere! Track and rate cartoons utilizing your phone, get reminders about when your favorite shows air.
The new cartoon series are waiting for you!
Charge: free trial, monthly and annual subscriptions
You've probably heard of Netflix. Well, there are cartoons too! New series are being released constantly. Of course, this website is not completely free but there is a free trial and, besides, you can ask your friend to share their login and password with you.
On Netflix, you can watch new and great cartoons series that are popular here and now. You can search for older stuff as well. There are adult animated shows that can be enjoyed by the whole family. All in all, you will find something that will suit your taste.
Charge: free
Vimeo is one of the world's largest platforms for uploading and watching videos. Using Vimeo, you can build, watch, download, and share cartoons for free. You can also go premium to get some additional features. The website enables you to upload cartoons, rate them, and comment on them as well as meet other cartoon fans. You can join the site by filling in the form:
You will be happy to enter such an awesome website for watching cartoons.
Charge: free or paid
Disney Video is the most brilliant site for those cartoon fans who favor classic animation.
There are such exciting shows, as Finding Dory, Frozen, Zootropolis, The Lion Guard, and many others.
You can see your favorite Disney videos telecasted on many different channels. There are also recommendations on the cartoons that are worth watching.
Watch clips and trailers of your chosen Disney movies!
You can even play games on this website.
Charge: free
Are you crazy about the South Park show? Then the website South Park Studios is for you!
It enables you to watch full-length episodes as well as clips of cartoons.
Are you a fan of Eric Cartman or Kyle Broflovski? Or maybe Kenny McCormick is your favorite one?
Just tap on "WIKI", then "Characters" and you will see the full list of South Park Characters.
Pick the picture of any character and view all information about them. What's more, you can choose featured episodes on this page directly linked to the hero and watch them!
And you can sign up here, buddy!
The interface of the South Park Studio site is perfect. You are going to like it!
Charge: free
Cartoon Network offers you the best cartoons, including full-length episodes, animated shorts, and more.
You can also play fun games with your favorite characters.
One more attractive thing is that you can watch cartoons on your smartphones.
Watch cartoons with pleasure!
Charge: free
WBKids is the warehouse of your favorite cartoons, videos, and free games. You can find old series like The Flintstones, Garfield, Tom & Jerry, Pink Panther, and many more.
Play online games using your favorite WBKids characters like Scooby-Doo and Tom and Jerry. Watch free clips of your favorite TV shows like The Flintstones and Pink Panther and Pals! The interface of the WBKids is wonderfully organized.
Charge: free
Using Ovguide you can watch all the best anime series online in one place! Find your favorite anime easily and without pain.
You will get personalized recommendations, be able to bookmark your favorites, and more.
It is all free and easy!
Charge: free trial, monthly and annual subscriptions
DC Universe is not a free site – if you want to use it regularly, you need to buy a subscription. However, with the subscription, you get the ability to watch your favorite movies and cartoons without advertisements. There are also new episodes that you can get access to right away.
The good news is that you can try using this website for free. Who knows? Maybe you'll like it and want to pay for the quality. Animated movies are mostly suitable for teenagers and adults. Fans of comic books will love the content!
Charge: free
CartoonsOn is a well-known cartoon streaming website that is simple to use.
Do you wish to watch your favorite cartoons without downloading and without opening your computer to risks? Just use the CartoonsOn!
You can search for anime/cartoons using the search box or you can easily find them by "Studio" (Walt Disney, Warner Bros, etc.), "Characters" (Tom and Jerry, Mickey Mouse, Bugs Bunny, etc.), "Shows" (Family Guy TV Series, Ben 10: Omniverse, etc.).
The website doesn't require signing up or registration. Watching your favorite cartoons is free! The collection of free cartoons is constantly updated, so visit the CartoonsOn regularly to find new cartoons.
Is there a need to wait for a cartoon on TV when you can easily find it on this site and watch it whenever you want? You are welcome, cartoon lovers!
Conclusion
So, you have got a proper list of 20+ websites to watch cartoons online for free. You can choose to go visit any of them or check them all. It's all up to you! Now you have a great chance to relive old moments or have a pleasant time watching the latest cartoons instead of dying of boredom. We hope you will be satisfied!
Mustafa Al Mahmud is the Founder of Gizmo Concept and also a professional Blogger, SEO Professional as well as Entrepreneur. He loves to travel and enjoy his free moment with family members and friends.